The most incredible football trips in Europe and South America
Football makes a great focal point for a city break, whether it's watching an elite European club or one where the hotel waiter moonlights as the centre-forward
Winning tip: smallest is beautiful, Eibar, Spain
Ipurua stadium (capacity 7,000), in the Basque town of Eibar, is one of the smallest top-flight stadiums in Europe and also one of the most atmospheric. Often shrouded by mist rolling in off the green hills that surround it, this place has a mesmerising quality that is matched by the team on the pitch, who punch well above their weight in Spain's La Liga [the team is currently in ninth place]. The chance to see superstars like Messi or Ronaldo up-close in what essentially feels like a non-league ground is a unique experience. Backed by a raucous home crowd, including supporters club Eskozia La Brava (Scotland the Brave), the pre- and post-match festivities are as lively as the game itself. Beer and the potent liquor orujo (a pomace brandy) flow freely, along with jokes from the hugely welcoming locals. You could see most of this tiny town in about 90 minutes, so stay in Bilbao or San Sebastián, both about an hour away by bus or train.
I would walk 500 miles to Bremen, Germany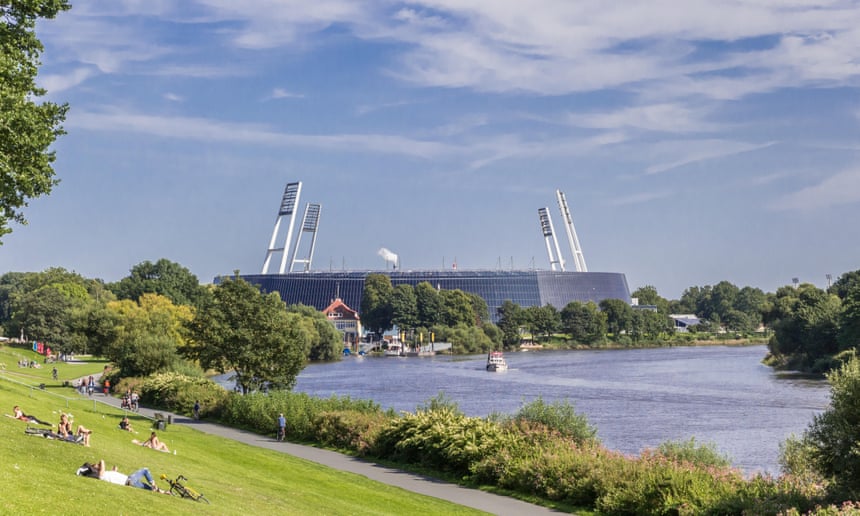 Approaching the goal … the scenic walk to Bremen's stadium along the Weser river. Photograph: Alamy
After a sobering visit to the abandoned Valentin U-boat bunker, prepare for matchday at the Weserstadion (home of Werder Bremen) by supping at the Shuttinger Brewery (behind Böttcherstrasse). It's a great place to discuss football as you work your way through a giant currywurst (€8) washed down with a pitcher of dunkel beer. As you resurface on to the picture-postcard thoroughfare your pre-match fervour might be heightened by a jaunty accordionist and the guttural chants of the green and white Werder Ultras.
For spectacular views of the stadium, with its towering floodlights, walk there along the banks of the Weser, where pleasure boats will be ferrying supporters to the match. Vendors of Beck's lager are dotted along the path, selling small bottles of frothy gas for €4. Give yourself plenty of time because, although a place on the terraces will only set you back €15, good vantage points are at a premium for the diminutive and the tardy alike.
Expect lively banter, lusty hugs and hearty singing, for Bremen's reputation as a welcoming city is clearly exemplified among the serried ranks of the Ostcurve (east stand). Goal celebrations are particularly noteworthy, for you are likely to be manhandled as a rendition of The Proclaimers' I'm Gonna Be (500 Miles) is blasted over the tannoy. Your fellow huggers might even join you later at the Teestübchen restaurant in the oldy worldy, yet touristy, Schnoor district (mains from €9.90, Wüstestätte 1) where post-match analysis can be conducted over a plate of labskaus (salted beef and pickles, €16.90) and a heady glass of the local brew – even if it has to be Beck's!
SLEE
A pitch in a castle, Georgia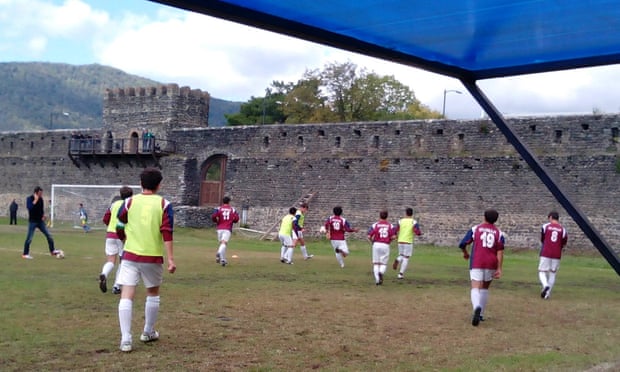 Barcelona or Milan may be your first thought when picturing legendary football grounds, but don't overlook the little town of Kvareli in Georgia. League-three team FC Duruji Kvareli plays its home games in the centre of an 18th- century castle (capacity 1,000). We went to watch a game at the recommendation of our waiter at Kvareli Lake Resort. He'd failed to mention he was actually a player, which we noticed only when we saw him score!
ruthmjones
Best food and football, Rome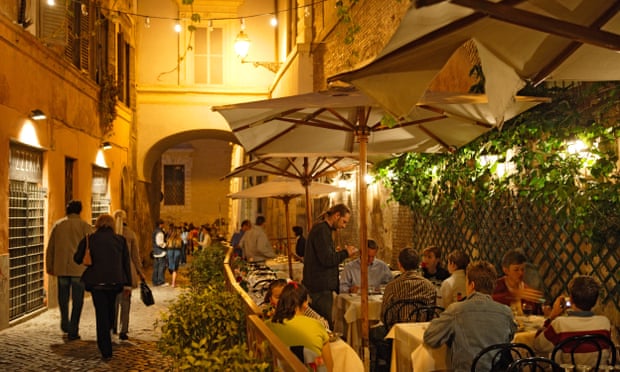 A cafe in Trastevere. Photograph: Alamy
The fiery, idiosyncratic atmosphere of the Stadio Olimpico amplifies and mirrors everything that is beautiful, intense and contradictory about Rome. With AS Roma and Lazio playing at home on alternate weeks, most weekends between late August and the end of May should coincide with a game. Stay in the leafy, labyrinthine neighbourhood of Trastevere, across the Tiber, on the morning of the match and go for cappuccino at Sant'Eustachio (Piazza Sant'Eustachio 82), near the Pantheon. Walk north towards the Olimpico, passing the Trevi Fountain and Spanish Steps, and through Piazza del Popolo. Shortly before the stadium, you will arrive at MAXXI, the national museum of contemporary art; it's an abstract, playful contrast to the Rome you have already seen, and the one you are about to. Arrive at the Olimpico early, to watch fans belt out the bizarre yet endearingly naïve club anthems, such as Vola Lazio Vola (a Lazio-themed power ballad), while Olimpia, the club mascot (a golden eagle) soars around the stadium. After a match filled with flares, firecrackers and smoke, walk for 30 minutes south to Cacio e Pepe (Via Giuseppe Avezzana 11), a laid-back neighbourhood trattoria. Order the Roman spaghetti dish of the same name or the carbonara, and celebrate or commiserate with the home fans who monopolise the restaurant. Take a taxi along the Tiber to Open Baladin (Via degli Specchi 6), a cavernous yet intimate bar near Campo de' Fiori, which specialises in Italian craft beers such as Tocalmatto and BrewFist. From here Trastevere (and your bed) is just a short walk across the Tiber.
colossal velocity
Basque in glory, Bilbao, Spain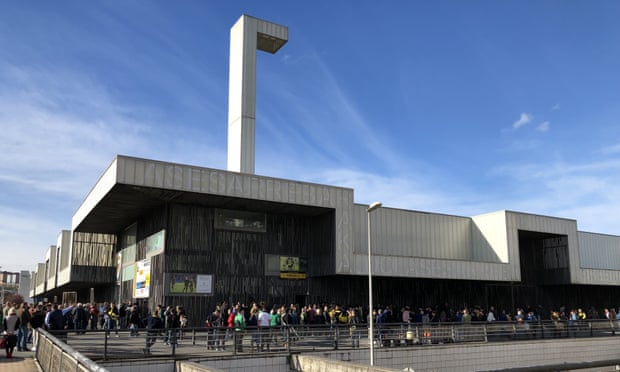 Barakaldo play at the Campo de Lasesarre. Photograph: David Bevan
It's worth exploring football in one-club cities. Athletic Club Bilbao is fascinating, but not the only football-related reason to visit Bilbao. Games are played at all hours of the day. Last Sunday I saw Basconia, one of Athletic's feeder clubs, play in the morning in a suburb of the city. In the afternoon I headed a few metro stops north to watch third-division Barakaldo's fervent, anti-fascist fans play fallen giants Racing Santander at an architecturally wonderful stadium, the Campo de Lasesarre. There was just time to return to Bilbao to see Athletic Club beat Leganes at the magnificent San Mamés. A wonderful city with so much passion for football.
David Bevan
A football tour around Madrid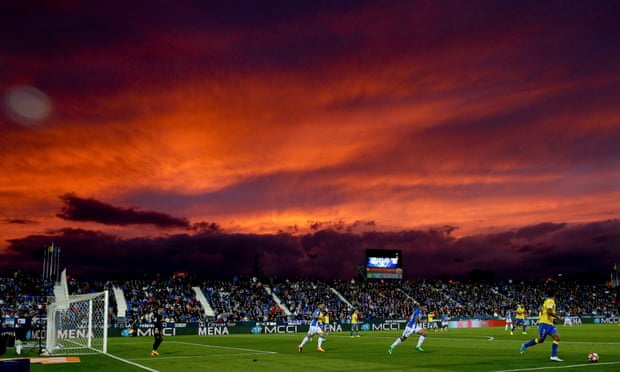 Leganes v Las Palmas at the Butarque stadium near Madrid. Photograph: Juanjo Martin/EPA
Visitors to Madrid who want to see football should look beyond El Derbi madrileño and El Clásico. Fixtures around the capital can be found Friday through to Monday. From the main station, Madrid Atocha, there are local trains and metro south to CD Leganes (La Liga, €18) and Getafe (La Liga, €30). To the south-east is Rayo Vallecano (Segunda Division B, €20), whose ground, Campo de Fútbol de Vallecas, is right by Portazgo metro station in the left-leaning district of Vallecas, squeezed in by residential buildings on all sides. Real Madrid's second team, Real Madrid Castilla, play in Segunda B and there are also Rayo Majandahondra, Fuenlabrada, Atleti B to enjoy. Navalcarnero complete the league in a beautiful 1,600-capacity ground beyond the train line C5, with a bus ride from Mostoles. There's even a half-time game of bingo!
andy mann
Art of football, Munich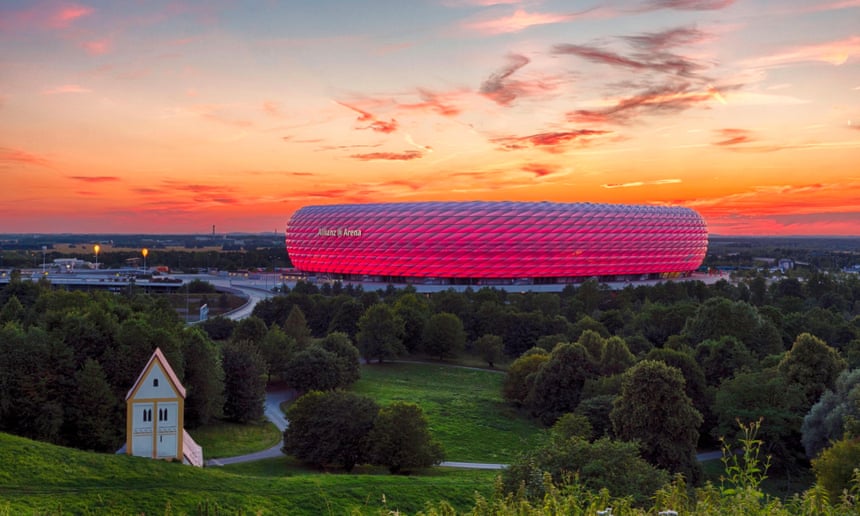 Munich's beautiful Allianz Arena. Photograph: Alamy
The Allianz stadium in Munich doesn't only feature artistic football played by Munich's two football sides – it is a work of art itself. Designed by architects Herzog and de Meuron, the transparent facade changes colour to match the sides and is worth seeing at night to get the full effect. You can travel back into Munich on the U6 underground, but rather than heading straight for the beer gardens, give Pinakothek der Moderne a look (€10). Designed by Stephan Braunfels, it is, like the Allianz building itself, a work of art and houses Germany's biggest collection of modern art.
callens17
Fierce rivals and thermal baths, Budapest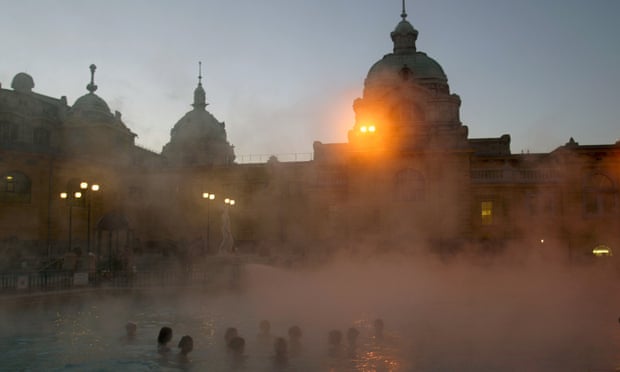 Budapest's Szechenyi baths. Photograph: Laszlo Balogh/Reuters
The Budapest derby between Ferencváros and Újpest is so hotly contested it makes Old Firm look like afternoon tea. At the 24,000-capacity Groupama Arena, home of Ferencváros, you'll complete Kafka-esque registration forms, have your biometrics taken and be thoroughly frisked by security before being granted access. These games are roller coasters of noise, colour and emotion and the febrile atmosphere is not for the faint of heart. Relieve the tension of the match by sinking into one of Budapest's many thermal baths (Dandár is the nearest, a 30-minute walk, £4) or simply stroll the glorious banks of the Danube. Three kilometres north are the ruin bars of District VII, where ramshackle but excellent bars inhabit the shells of abandoned buildings. Just go easy on the Unicum if you want to remember your weekend. The herbal liquor is ubiquitous here. As fiery as the derby game, it will make your eyes bulge and your head swim.
Patrick Strode
An international in Buenos Aires, Argentina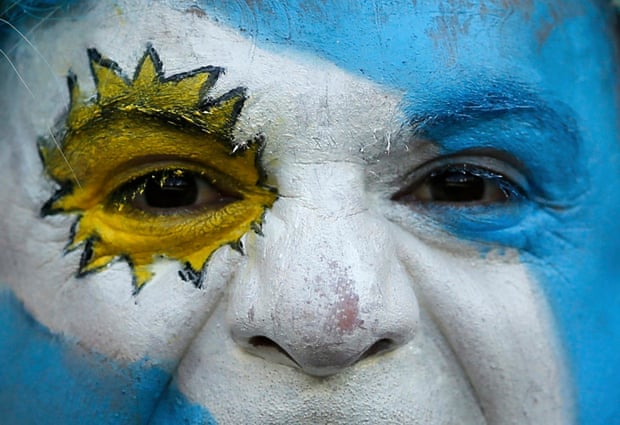 Photograph: Sergio Perez/Reuters
A four-night break in Buenos Aires coincided with the Argentina vs Venezuela World Cup qualifier. We travelled to the game via a local firm, LandingpadBA, which organises trips and football excursions in the Buenos Aires area. We were met in a central location and taken to a local beer garden (the back garden of one of the locals who ran the trip). We were treated to the tastiest burger I have ever had, and free beer. We were a party of 16 – Americans, Mexicans, Dutch, English and a few locals. We were taught the Argentine chants, including an anti-UK one about the Malvinas.
With hooliganism a real problem, there were numerous searches and screenings and no sales of alcohol within a kilometre of the stadium, although a few local entrepreneurs were selling cans of lager in the street. Once inside the ground it was basically a free-for-all, with everyone sitting were they wanted, perched in front of exits and in the stairwells. We happily joined in on the anti-English chants and the adoration for hero Lionel Messi but there was disappointment for the home fans: the match, a key qualifier for the Russia World Cup, finished 1-1.
• Package from $140 includes match tickets, food and drink pre-game and transport, landingpadBA.com
George Cook
Match in the clouds, La Paz, Bolivia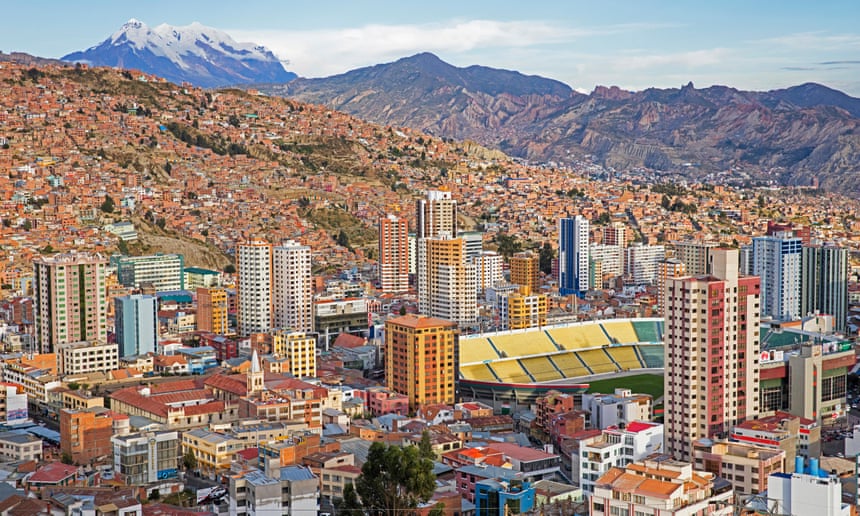 Photograph: Alamy
For less than £1, I entered La Paz's Estadio Hernando Siles stadium, 10 years ago, to watch Club Bolivar vs Real Potosí. As I sat on my concrete seat, those in the 40,000 stadium sang anti-Fifa and pro Bolivian chants. Fifa had just banned the stadium, which sits 3,600 metres above sea level, from hosting World Cup qualifiers due to the perceived advantage for the acclimatised home team. For the fans at the game, team rivalries were set aside as both fans sang together, the issue had become about national pride, led by president Morales, and a perceived slight on a smaller Andean nation. I'd never seen two sets of fans singing with each other previously and while the game was an entertaining 2-2 draw, the atmosphere and insight in to what was clearly a major cultural issue was what stayed with me. The ban was lifted the following year.
cand82
Sledging and footie, Andorra
Surrounded by the Pyrenees, cheap, readily available tickets, easy access from any village in the principality … There are not too many places where, in one day, you can drop 500 metres on a 5km toboggan run (from €25, naturlandia.ad), get some duty shopping done, spa yourself silly in geothermal waters(from €32, caldea.com), watch an international football match and top it all off with a cold beer and the best croquetas (and I've tried many) in a tapas bar (Xenius in Sant Julià). Andorra now has a new stadium over the road from the old one. We went for the visit of mighty Macedonia in a Euro qualifier. We spent the first 20 minutes cheering the wrong team as both had yellow and red in their flags, and one team played in yellow and the other in red.
catchytitled
• This article was amended on 21 March 2018. The Ipurua stadium was originally described as "the smallest top-flight stadium in Europe." There are, in fact, several smaller stadiums in smaller top-flight leagues. Ipurua is the smallest in Europe's top five leagues – England, France, Germany, Italy and Spain.
Source: The Guardian.