Things to do in Sydney before 9am: the best plans for early risers
We're an optimistic bunch – rising at the crack of dawn to snap sunrise pics by the pool or hitting our fitness goals in the park. Set your alarm an hour or two earlier and smash this list of 90 glorious early morning activities.
1. Be one of the first swimmers to wade into the salt water at Bronte Baths and soak in the views of an empty beach as daylight creeps over the horizon.
2. Get in early to feed the animals at Taronga Zoo. You'll need to book in a sleepover at Roar N Snore, but at 6.15am you'll get to feed a seal and sunbake with an echidna. $185-$320.
3. Book in for a surf lesson at Bondi Beach. Let's Go Surfing runs 6.30am sessions for beginners, so you can practice standing up (and falling off) before the beach gets busy. $95.
4. Take photos of the sunrise from one of the tallest towers in Sydney. Nikon runs a Cityscapes Masterclass class that starts at 7am, 266 metres above the city at Sydney Tower Eye. $99. Sat Jan 20.
5. Glebe Rowing Club teaches newcomers how to perfect their scull in a four-week Sunday morning program from 8.30. Get on board for a new cardio workout on the water. $275. Nov 4-12, Jan 21-Feb 9 & Feb 25-Mar 18.
6. Weave your way around working fishermen on the auction floor at Sydney Fish Market and see more than 100 varieties of seafood in the 6.40am Behind the Scenes tours. $35.
7. Start the day drifting 300m above farmyards and pretty country towns with Balloon Aloft on a sunrise tour over Camden Valley. Daily 4am. $299-$339.
8. Slow down with a guided meditation class at W1ll. The studio is beautiful and you can sip on peppermint and cocoa tea afterwards. Tue, Thu 7.15am $22.
9. Cycle through the Alpe d'Huez (without leaving Sydney) at a one of Scenic Cycle's 6.45am or 7.45am classes. $22.
10. Rise and shine for Chinese pancakes cooked and served to you by chef Kylie Kwong at Carriageworks Farmers Market. Sat 8am-1pm.
11. Sydney Opera House Backstage Tours start at 7am every day. Access areas normally reserved for big stars and finish with breakfast in the Green Room. Daily, 7am. $165.
12. Walk to Ben Buckler to watch the sun rise on the ocean's horizon. When the tide's low, carefully walk along the North Bondi rocks then take the stairs to Ray O'Keffe reserve. North Bondi 2026.
13. Centre yourself with a 6am sweaty yoga class at Redfern's Humming Puppy – they're not as busy as lunchtime or after-work classes. $35.
14. Grab an excellent cup of coffee at Single O, one of Surry Hills' most popular cafés. It opens at 6.30am; beat queues before the locals rush in.
15. Stand-up paddle board at Balmoral Beach when the water is calm and the boats are few and far between. $20.
16. Shake it off at Sydney Dance Company. Jazz, ballet, jazz, funk, hip-hop and latin classes kick off at 6.30am. $22.
17. Bake yourself in the Icebergs Pool sauna then cool down with dip after – it can be a sardine tin on weekends, but at 6am on weekdays (6.30am Sat, Sun) it's much more chilled.
18. Head to Fitter House at Bondi Farmers Markets for the breakfast staple piled high with bacon, chicken chipolatas, spiced potatoes, tomatoes, chilli jam and sour cream. Sat 8am.
19. Ride the 7.30am ferry departing Parramatta Wharf, which winds leisurely along the river before ending at Circular Quay just in time for breakfast in the Rocks. $3.67-$8.90.
22. Climb the Harbour Bridge at dawn and see the sun rise over the horizon from the most spectacular vantage point. From 3am. $273-$393.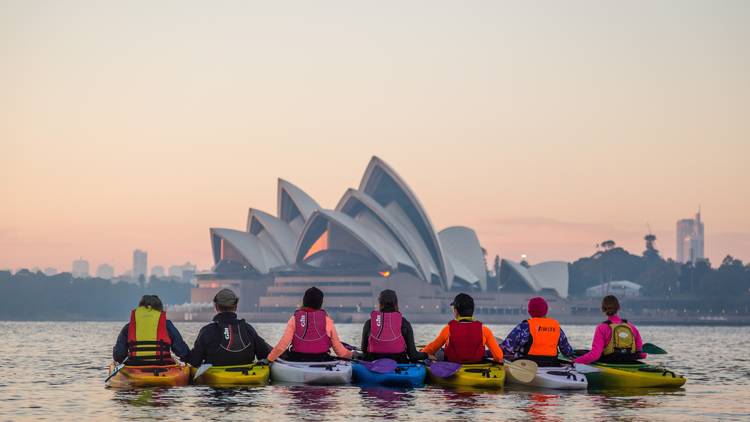 Source: Time out.