Sleep in a rooftop surrounded by some of Melbourne's most iconic buildings
Melbourne knows how to make use of its space. Cafes are crammed into alleyways, high-end restaurants pop up in basements, and bars float under bridge pylons on the river. With all that, you can't be surprised that a rooftop has been snapped up and repurposed into a (somewhat) camping ground.
One of Melbourne's most unique accomodation options is glamping at St Jeromes. It's accessed via an alley near Little Lonsdale St, near Melbourne Central. The lobby is on level three. Upon arrival the campsite in the sky delivers one of those "wow" moments we're all chasing — the rooftop is surrounded by some of Melbourne's most iconic buildings, including the Melbourne Central cone tower and the façade of Melbourne Emporium. It's glam without being snooty, and it seems to be designed specifically for the Instagram generation, meaning it photographs extremely well. The whole venue, from the lobby to sauna, is decked out in lush tropical plants. That could be to cover up the functional elements required of a rooftop, but no matter, the aesthetics work with the canvas tents.
The main communal area of the hotel is the General Store, which is less a store (although it does have a vending machine stocked full of toiletries and emergencies supplies) and more a bar/cantina. A free cocktail on arrival will no doubt lead to a few more and as well it should – the staff make a mean Long Island iced tea. Inside it, you'll find board games along a communal bench and most likely get distracted by them. The general store is surrounded by oversized bean bags, hammocks and bocce balls and usually inhabited by chill but chatty staff and other guests. There's a distinctly 'hostel' vibe about the way guests interact, which is a big draw card for young folk. That kind of communal vibe is often absent from fancy accommodation.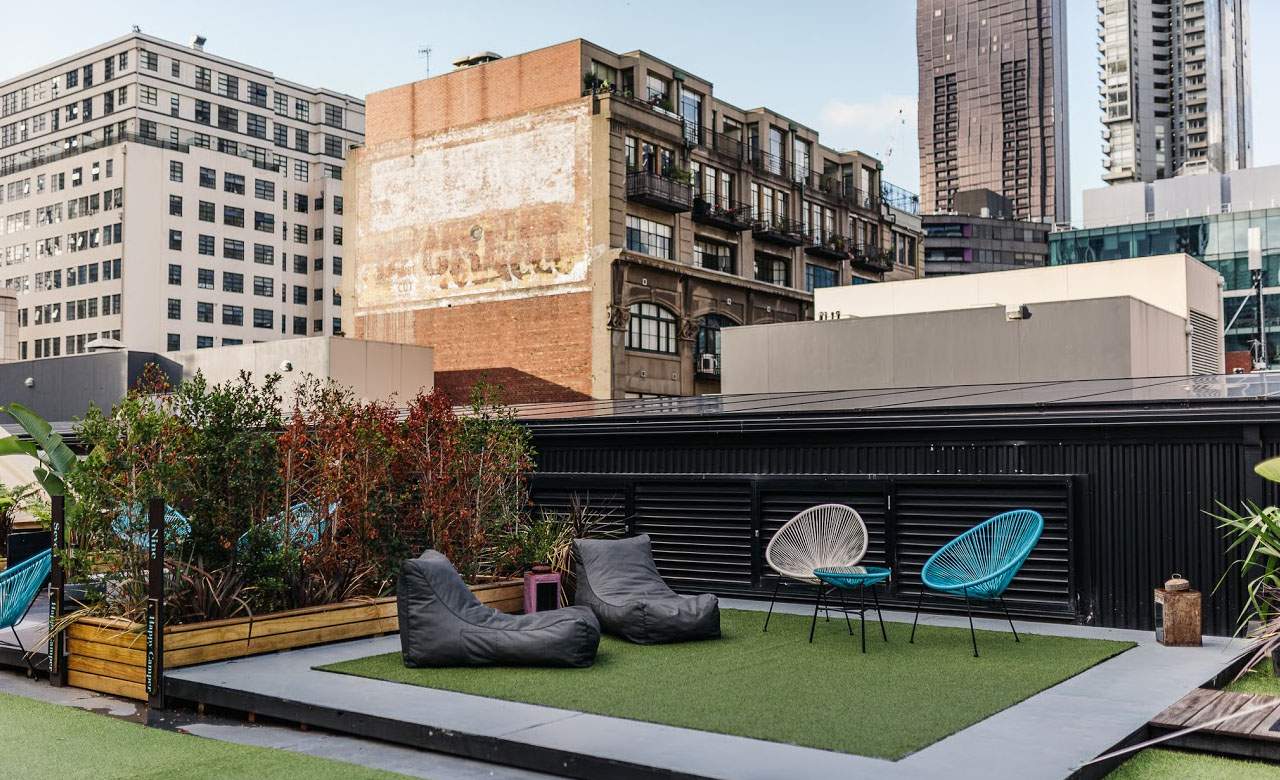 If you can, move past your welcome treats and cocktails into your tepee. The Luxe Plus option is 5 metres across, giving you plenty of room to spread out and roll around on the plush carpet and/or pirouette into the soft queen sized bed. The Luxe option is 4 metres in diameter, a little cosier than its counterpart but both boast downy quilts, soft linens and, more importantly, a welcome esky stock piled with local craft beer and cider. Now that's how you check-in.
When you've finished wandering your new digs in awe, you'll have noticed the little luxuries that make your stay at St Jeromes a cut above. You find locally made treats, vouchers and a killer room-service menu that features camping faves done well, like jaffles and hot chocolate.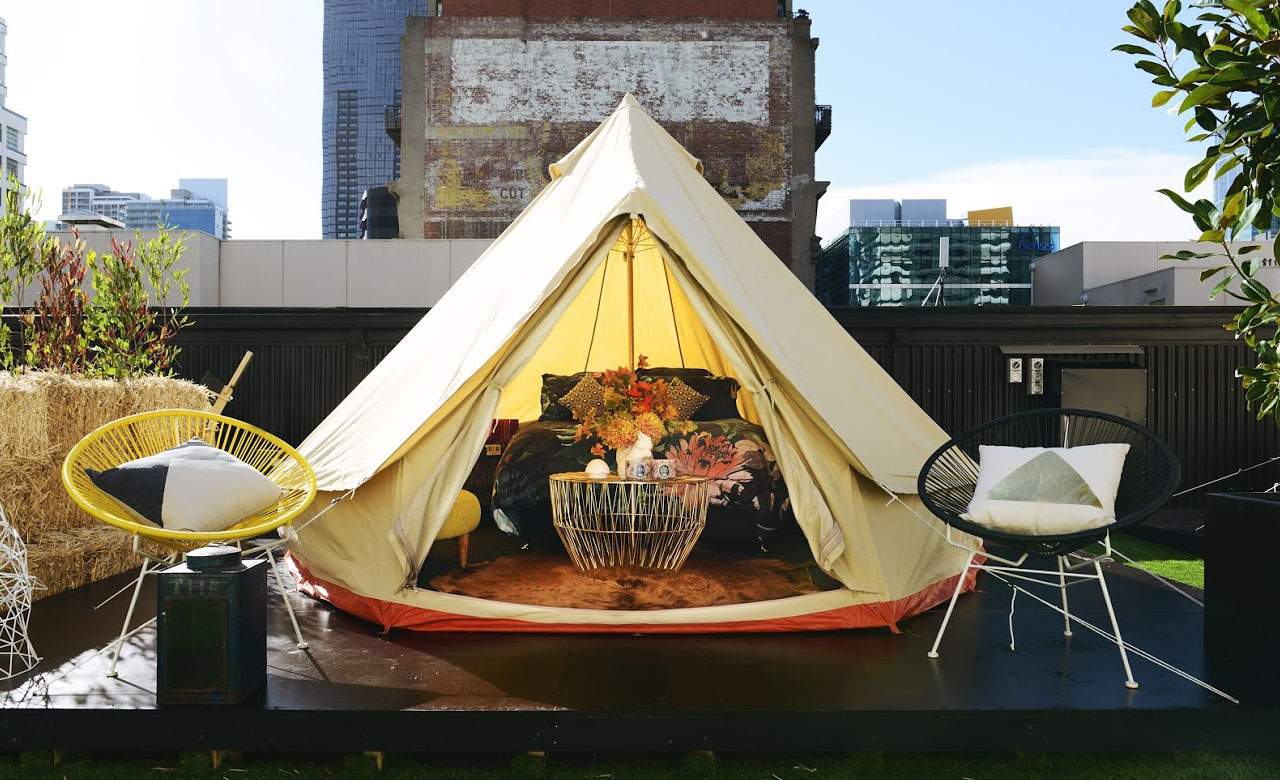 Over time, you'll find yourself not wanting to leave the rooftop as the perks keep coming throughout the day. You can have bespoke Gelato Messina dessert and T2 sleepy time tea delivered to your tent if you request it. Staying with the theme, the dessert is a reimagined s'more – and they are the richest and sweetest ice-cream s'mores you'll ever taste.
Don't forget during the food frenzy to take advantage of the built-in extravagances on offer. Book in for a sauna session (remember to do it pre-booze), pop over to Strike Bowling for a free game or stop by the Melbourne Central Lion for a complimentary late night snack. Possibly the biggest game changer (all hotels should take note) is the barista-made coffee that is delivered to your tent in the morning. The smell of coffee, and the crunch of a bacon, egg, tomato and basil jaffle in the morning, combined with the diffused morning light through your tent will reinvigorate you. It's almost better than a proper holiday.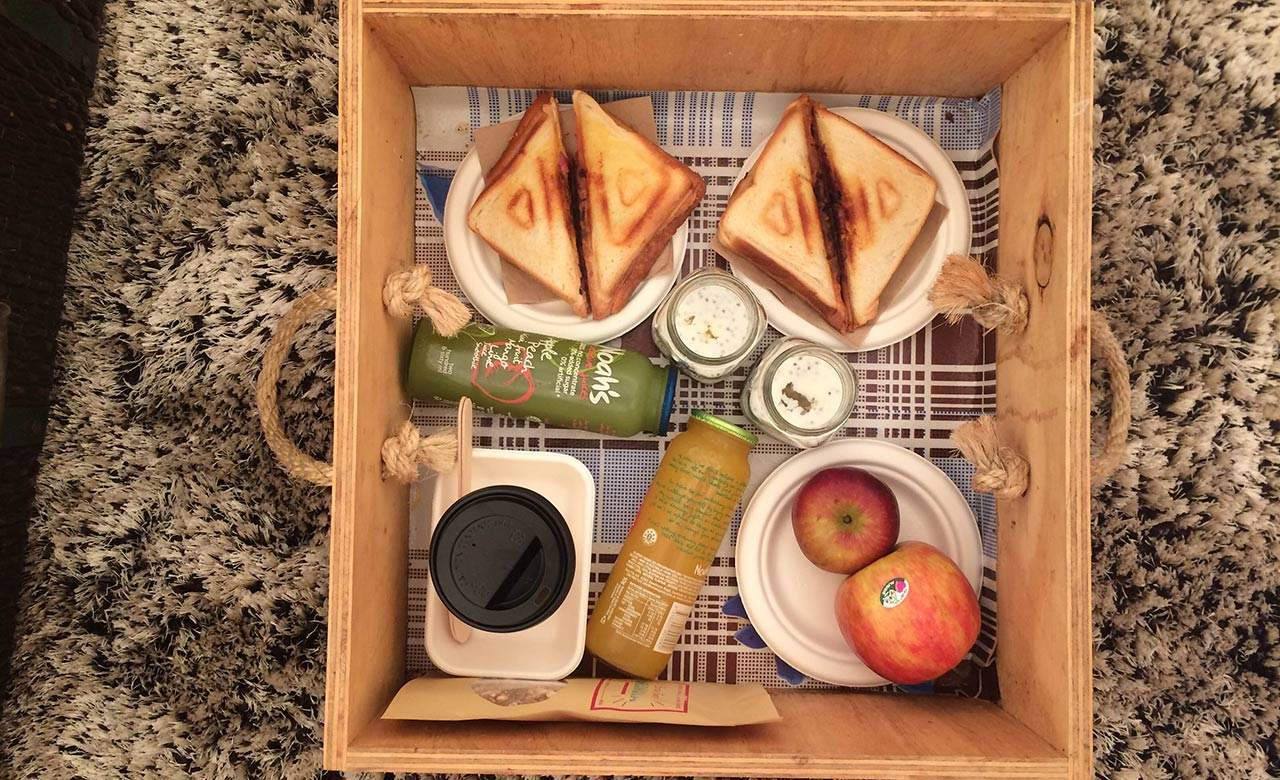 Look, there are some aspects of camping that no amount of luxury can smother. You really start to appreciate how deeply privileged we are to have access to running water at all times. And a campsite toilet is a campsite toilet regardless of how lovely it smells.
Strangely, waking up on the rooftop brings that same feeling that occurs when you're waking up in a forest. You feel clean, and high up above everyone. It's a confusing, relaxing sense of urban spiritualism. Maybe you're a proper outdoors person, and you can stay that way. But this is camping, with running water and a campsite toilet. You can fall asleep with a full stomach in a warm tent just above the most vibrant city in the world. The hum of traffic in the distance sounds like gentle ocean waves, who says you can't have both?
Source: ConcretePlayground.