California fires: Deadly wildfires sweep through wine country
A state of emergency was declared in northern areas after mass evacuations, with 1,500 properties destroyed.
About 20,000 people fled from Napa, Sonoma and Yuba counties in response to some the state's worst-ever wildfires.
Such fires are more common in southern California but a combination of dry weather and strong winds has fuelled the destruction in the north.
"These fires have destroyed structures and continue to threaten thousands of homes, necessitating the evacuation of thousands of residents," Governor Jerry Brown said, declaring the emergency.
There is little sign the weather in the coming days will bring relief to firefighters, BBC Weather says. More tinder dry conditions are forecast, with no rain expected.
Meanwhile, in southern California, a separate wildfire burnt 24 homes or other buildings in the wealthy Anaheim Hills area of Orange County, forcing thousands of residents to evacuate.
What do we know of the loss of life and damage?
Details of how the seven people died in Sonoma were not immediately available but country sheriff Rob Giordano said he expected the death toll to rise.
"There is a lot of burned homes and a lot of burned areas, so it's just logical that we're gonna find more people," he said.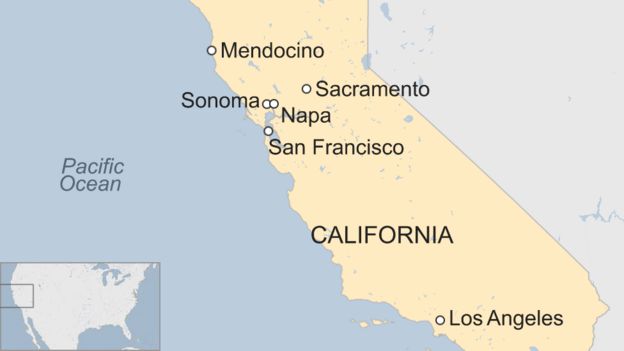 Two people also died in Napa county and one in Mendocino county when thousands of acres burned in one valley.
Dozens of vineyard workers were reportedly airlifted to safety overnight.
Napa really hurting right now. I pray everyone gets home safe and we pull together as a community to help those who are affected. pic.twitter.com/Gr47w9ZITu

— Cakes (@MikaylaSegura) 9 de octubre de 2017
Wineries belonging to the rich and famous were abandoned. One belonging to musician Dave Matthews was closed and at risk of being burned to the ground, staff said, as was the nearby Francis Ford Coppola Winery.
The vine harvest is already under way and many of the grapes have been picked.
Why did the fires spread so fast?
It is not yet known how the fires started on Sunday night but such blazes are particularly fast-spreading because of a combination of high winds, low humidity and hot, dry weather.
Wind gusts in excess of 50mph (80km/h) were reported as 15 separate wildfires burnt across some 73,000 acres, the state fire service said.
Ken Moholt-Siebert, a vineyard owner who thought his property had probably been destroyed after he and his family escaped on Sunday night, described the suddenness of the disaster.
"There was no wind, then there would be a rush of wind and it would stop. Then there would be another gust from a different direction. The flames wrapped around us," he told the LA Times.
The fires come in a year of record-setting heat and persistent drought, according to the San Francisco Chronicle.
Why are these fires unusual?
The combination of conditions is more typical of southern California, the LA Times reports.
"This is exactly what you would expect in the Southern California fall fire season," Cal Fire director Ken Pimlott said.
Valerie Schropp, a resident of Santa Rosa, which was badly affected by the fire, told the BBC this was not something people expected.
"We have never seen anything like this before, it is such a fast-moving fire," she said.
"We have backpacks by the door. This is a city of 175,000. It's for earthquakes. This is big earthquake country. We don't expect fires to come into the city and burn at the rate they did."
Source: California fires: Deadly wildfires sweep through wine country.