India's most luxurious hotels
Old Delhi, Mumbai, Rajasthan, the Himalayas -- India is full of contrasts and layers, diverse landscapes and notoriously hard-to-reach villages.
"The palace hotel experience in Rajasthan, in particular, is something you don't see anywhere else in the world," Jay Tindall, co-founder of ultra-luxury bespoke travel service Remote Lands, tells CNN Travel.
"It's really uniquely India and it tends to be the starting point for luxury travelers. That's a challenge for us as well, because we encourage visitors to get off the beaten track and explore more of the country."
Once you decide which destinations to visit, the next decision is where to stay. From palace hotels to luxury tented camps, these are India's crème de la crème:
Palace hotels
Taj Lake Palace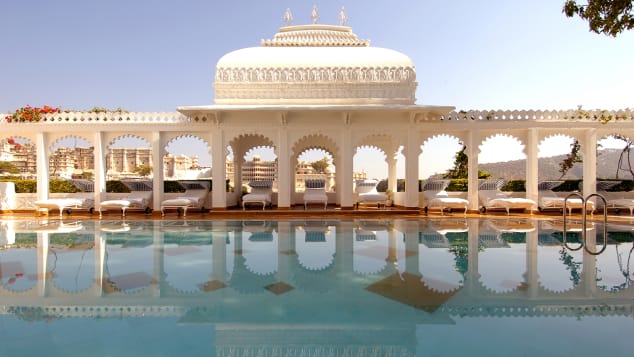 Set in the middle of Lake Pichola -- in India's storied Udaipur region -- Taj Lake Palace has long been praised as one of the world's most romantic hotels.
It's almost hard to believe your eyes. The white marble marvel appears to float above the water, all the while surrounded by the majestic Aravalli mountains.
"If you want that more-than-250-year-old history, you'll find it at a Taj hotel," says Tindall. "This is where Taj really shines. The service is impeccable, and they are all special properties where you can feel a sense of history at the centuries-old palaces."
It's an opulent experience from start to finish, beginning with a boat ride to the royal island, where guests are immediately welcomed with a shower of rose petals and a welcome drink.
From there, travelers can lounge around in 18th-century splendor -- originally built as a pleasure palace by Maharana Jagat Singh II in 1746 -- dine on authentic Rajasthani cuisine, or book a treatment on the famous spa boat.
Rambagh Palace
Featuring white marble corridors and red brick accents, the Rambagh Palace was used by the Maharajas of Jaipur in various capacities over the years, first as a handmaid's residence then a hunting lodge and finally a royal guesthouse.
Dating to 1835, the palace is not only celebrated for its marvelous architecture but also for the 47 acres of royal gardens where peacocks strut throughout the day.
The hotel offers countless ways to unwind, including two pools, a grand spa, a Polo Bar, boutique shops, and a labyrinth of romantic courtyards.
During the day, guests are invited to take a historical walk about the grounds escorted by a Palace Butler and, by night, the palace's front lawns come alive with performances and music.
"The one thing India really does exceptionally well is service -- it's the entire experience," says Tindall. "From the moment you walk in the door, it's very regal, detail-oriented, personable ... and you just get this sense of colonial-influenced old India."
Umaid Bhawan Palace
Still a residence of the Jodhpur royal family, this meticulously restored palace from Taj hotels makes an unforgettable first impression.
The commanding Art Deco-styled facade, made of desert sandstone, rises atop a hill at the highest point in Jodhpur, in northwest India.
Designed by English architect Henry Lanchester, this opulent abode aims to please with spacious suites, antique furniture, personal butlers, an on-site museum, alfresco restaurants and 26 acres of gardens.
Taj Falaknuma Palace
The jewel of Hyderabad, Taj Falaknuma Palace captures a gloriously gilded past.
In its past life, the 19th-century palace was the residence of the Nizam of Hyderabad. In fact, Princess Esra, former wife of the current titular Nizam of Hyderabad, worked closely with Taj hotels during the careful renovation process.
The goal was to preserve as much of the original as possible, including everything from leather upholstery to paintings and stucco work.
Sitting atop 32 acres of gardens and courtyards, the hotel is a living museum of murals, Venetian chandeliers, antiques and statues -- plus 60 lavish guest rooms, croquet lawns, labyrinthine gardens and stables.
SUJÁN Rajmahal Palace
Located in Jaipur, SUJÁN Rajmahal Palace is easily one of the most stylish hotels in India.
Decked out in contemporary colors and eye-catching wallpapers, the Relais & Châteaux address hotel adds a modern touch to the otherwise ancient surrounds.
Staying true to its regal identity -- built by Maharaja Sawai Man Singh II of Jaipur for his favorite queen -- the 250-year-old Rajmahal Palace boasts pristine lawns, lofty bay windows, marble staircases and glamorous decor.
If you feel like a celebrity here, you're not too far off the mark -- over the years, the guest list has included Queen Elizabeth II and Jackie Onassis.
Tented camps and safari-style lodges
SUJÁN The Serai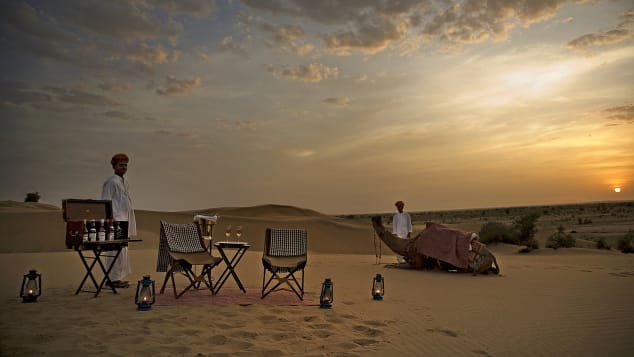 A nostalgic outpost in the middle of the golden Thar desert, outside of Jaisalmer, SUJÁN The Serai is a 100-acre oasis set amid dunes and starry night skies, promising memorable dining experiences and musical campfires.
Featuring terrace lounges and locally made textiles, the 21 tented suites are scattered across the dramatic landscape and share a communal tented restaurant, spa and reception area.
The six Luxury Tented Suites come with added perks, such as private stone plunge pools and walled gardens.
Meanwhile, the Royal Tented Suite stands alone as its own abode, complete with a personal butler, outdoor pool and private spa.
SUJÁN JAWAI
In the heart of leopard country, SUJÁN JAWAI provides an enthralling jaunt through ​rural Rajasthan.
"A special place is SUJÁN JAWAI, which our clients always love," says Tindall.
"The accommodations are really nice; the experience is great ... You get to see leopards in a beautiful environment. It's the closest thing to an African safari in Asia."
On the grounds, travelers will find just nine suites and one royal suite, set amid the peaceful landscape.
The design embraces subdued shades of gray and black to create a contemporary atmosphere, combined with bits of retro industrial touches and pops of ​scarlet ​red​ (inspired by the local Rabari tribe​) for energy.
Here, travelers might fill their days with a safari drive or a visit to nearby Bisalpur village, dine by the campfire at night, or enjoy a private picnic in the bush.
Remote retreats
Wildflower Hall, Shimla in the Himalayas -- An Oberoi Resort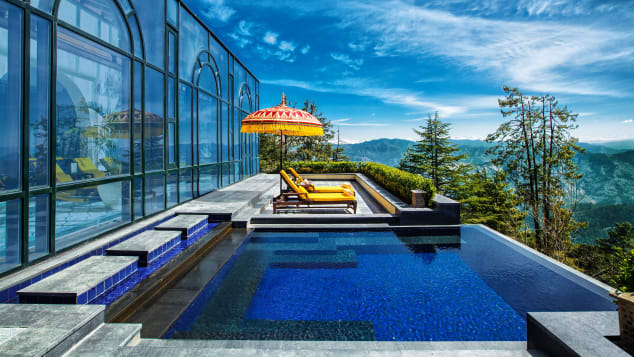 A mountain getaway with views of the majestic Himalayas, Wildflower Hall is in a league of its own.
Surrounded by nature at 8,000 feet above sea level, the grounds on which the colonial-style hotel stands on the grounds that was once the summer home of Lord Kitchener, former Commander in Chief of the Indian Army.
For an unparalleled experience, we'd recommend splurging on the Lord Kitchener Suite -- it's 1,450 square feet of handmade rugs, antique furniture, marble bathrooms and views of the Himalayas.
Source: CNN.